Rental Compact R 165 C3
SDMO Industries S. A. / SDMO GmbH Deutschland Durch Leistung und Zuverlässigkeit sein...
12 months warrantyGuarantee for all purchased goods in our online store is 12 months
SMS notificationYou receive SMS messages about each stage of your order.
Return and exchange - no problemYou can return the items purchased within 14 days. The goods must be in normal condition and have all the factory packages.
Different payment methodsPay orders in convenient ways: cash to the courier, by bank transfer on the receipt of the bank or by credit card right at the time of the order.
Best priceWe are proud of our prices, hundreds of customers check them every day, which give a choice to our online store!
Please sign in so that we can notify you about a reply
Would you like to rent an electricity generator? Our RentalCenter locations rent electricity generators nationwide. The size doesn't matter. Whether it is a large data center with several 2,500kVA diesel generators with a separate tank or a small server room with a small mobile 5kVA generator - we are your landlord! Our power generators are specially designed for rental. Robust power generators that are economical in use and at the same time meet all standards in order to be able to be operated in the city center are important details that all of our units meet in rental.
Technical specifications:
165 kVA (PRP), 230/400 volts, 50 Hz
John Deere engine, consumption 24.5 liters at 75% load
Large 860 liter tank approx. 35 hours running time at 75% load
Dimensions (LxWxH) 3520 x 1190 x 2120 mm net weight 2618 kg
Control and connection on the rear of the machine, clearly visible lifting eye, special access to each functional area, steps integrated in the chassis, stop dampers, access door to the radiator, large access doors, sockets and terminal block arranged far below, feed-through for fork-lift forks, steps integrated in the housing, from Motor area separate areas for operation and connection.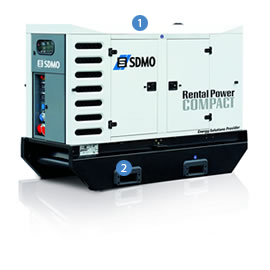 1. Flush eyelet
The central attachment point does not protrude beyond the outer edge of the device
2. bumpers
Protects the generator during handling, transportation and storage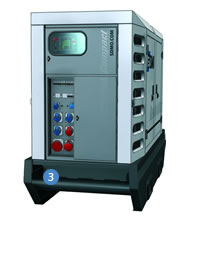 3. Drawbar and reinforced base frame edges
For pulling the device on uneven terrain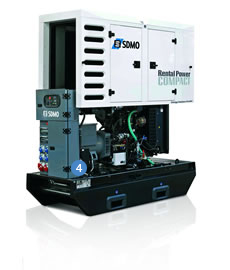 4. Overhanging and oversized base frame
Ensures the robustness and long life of the power generator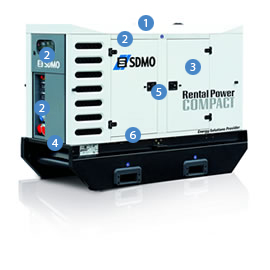 1. Own access for each function
Differentiation of accesses depending on the type of activity to be performed on the power generator (operation, connection)
2. Plugs and connectors attached below
Reduces the forces acting on the connections
3. Steps integrated into the chassis
Easy and safe access to the lifting eye
4. Implementation for forklift forks
Safe and easy handling with the help of a forklift
5. Steps integrated in the housing
Ergonomic steps in the axis of the lifting eye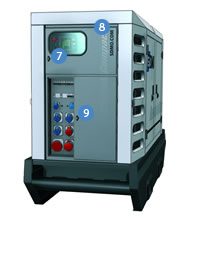 7. Control and connection on the back of the machine
Facilitates the operation of devices standing next to each other (optimal use of space, coupling)
8. Differentiation by color code
The user can see at a glance where the device is operated and where the load is connected
9. Access door to the radiator
Easy cleaning and maintenance of the cooler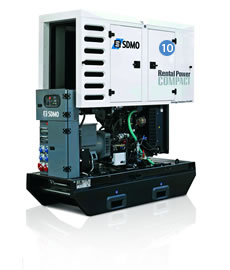 10. Compactness
Reduced dimensions (width <1200mm)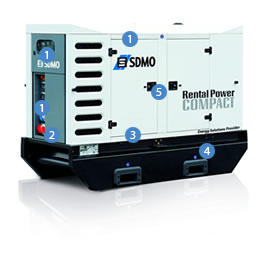 1. Flush eyelet
The central attachment point does not protrude beyond the outer edge of the device
2. Own access for each function
Differentiation of accesses depending on the type of activity to be performed on the power generator (operation, connection)
3. Main access
Facilitates maintenance of the generator (access to consumables and wearing parts)
4. Plugs and connectors attached below
Reduces the forces acting on the connections
5. Steps integrated in the chassis
Ergonomic steps in the axis of the lifting eye
6. Steps integrated in the chassis
Lei Tight and safe access to the lifting eye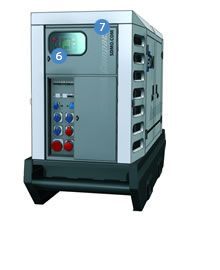 6. Control and connection on the back of the machine
Facilitates the operation of devices standing next to each other (optimal use of space, coupling)
7. Differentiation by color code
The user can see at a glance where the device is operated and where the load is connected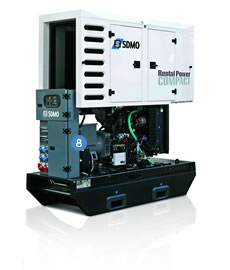 8. Areas for operation and connection separate from the engine area
Separates the operator from the mechanical area, ensures a low noise level during operation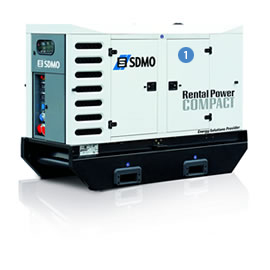 1. Main access
Facilitates maintenance of the generator (access to consumables and wearing parts)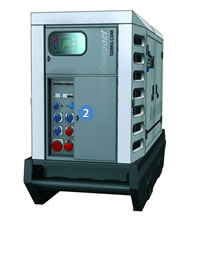 2. Access door to the radiator
Easy cleaning and maintenance of the cooler
_image-wrapper vc_box_border_grey ">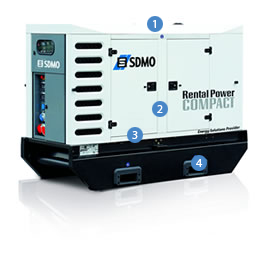 1. Flush eyelet
The central attachment point does not protrude beyond the outer edge of the device
2. Steps integrated in the chassis
Ergonomic steps in the axis of the lifting eye
3. Steps integrated into the chassis
Easy and safe access to the lifting eye
4. Implementation for forklift forks
Safe and easy handling with the help of a forklift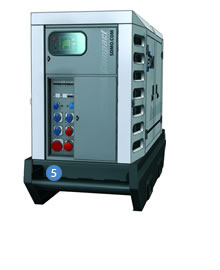 5. Drawbar and reinforced base frame edges
For pulling the device on uneven terrain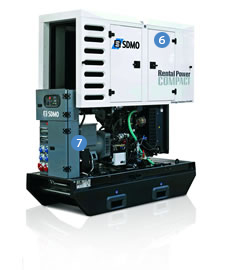 6. Compactness
Reduced dimensions (width <1200mm)
7. Areas for operation and connection separate from the engine area
Separates the operator from the mechanical area, ensures a low noise level during operation
Network replacement systems performance and performance
Network replacement systems tank capacity
Running time with daily tank at 75% utilization:
35
Network replacement systems Dimensions / weight with noise protection hood
Network replacement systems Other data
Short-circuit strength at 3 in for 10 s: